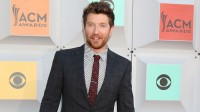 Brett Eldredge is one of the hottest single guys in country music. But, ladies, if you're lucky enough to get him to take you on a date, be prepared to head off the grid.
"I like adventures. So, for me it's doing something that you've never done or maybe the person that you're going with has never done, and it's something new and we both get to experience it together. That's what I try to do if I'm ever going on a date or whatever – is see the world with somebody or see something that's eye opening and really cool."
Brett just got back from a trip to the Bahamas with his friends.
Brett loves to travel, so the girl he ends up with better be willing to pack a bag and go! He wants a travel buddy more than anything.
If you want to date Brett, you must love dogs. Brett and his dog Edgar are a package deal.
Whomever Brett ends up with better have a great sense of humor.