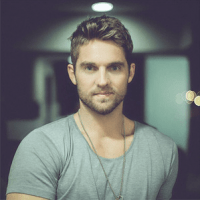 Brett Young is engaged, but he isn't quite ready to be a dad just yet. But when the time does come, he hopes to be like his own father.
"I think the older I get, the more I 100% turn into my dad. I get told all the time that I look just like him, but also, you know, those little quirks and character traits that probably as a kid you gave your dad a hard time for, you start to see yourself doing those things. And again, just like with my mom, I think my dad's somebody I look up to and one of the best people I know. So if it is my fate to become the same quirky person that my dad is, I'll be happy with it."
Brett will say "I do" this fall.
Brett's dad isn't going to officiate his son's wedding, but he will pronounce the happy couple "man and wife."
Brett says he would love to be a dad some day. Judging by how nice he is, I bet he'd be a great dad.
Don't forget — Father's Day is on Sunday! Here are some great gift ideas: http://bit.ly/2MnrWLI