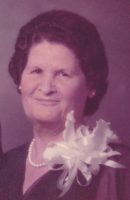 Louise Scarborough, age 90, of Baxley died Wednesday, December 26, 2018, at Appling Healthcare System under the care of Spanish Oaks Hospice.
Mrs. Scarborough was born September 26, 1928, in Appling County to the late William Homer Youmans, Sr. and the late Maybelle Carter Youmans.  She was a member of Asbury United Methodist Church and was a homemaker.
In addition to her parents, Mrs. Scarborough was preceded in death by her husband, Judson C. Scarborough and a son, Stanley D. Scarborough.
Survivors include her sons, Richard W. (Wilma) Scarborough and Daniel W. (Julie) Scarborough all of Baxley; a daughter- in- law, Patricia Scarborough of Baxley. Ten grandchildren and fifteen great-grandchildren also survive.
Funeral services will be held Friday, December 28, 2018, at 11:00 a.m. at Asbury United Methodist Church with Rev. Bill Gardner officiating.  Visitation will be one hour prior to the service at the Church.
Interment will follow in Asbury United Methodist Church Cemetery.
Active pallbearers will be Reid Lovett, Tommy Youmans, Shane Youmans, Greg Thomas, Alton "Bub" Moody, and Robert Drawdy.
Honorary pallbearers will be all friends in attendance.
In lieu of flowers, remembrances may be made to Spanish Oaks Hospice, 8510 Whitfield Ave., Savannah, Ga. 31406.
Arrangements are under the direction of Swain Funeral Home.