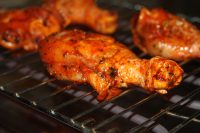 The 24/7 House in Baxley will have a BBQ Chicken Bash Fundraiser on Friday, March 15. Plates include half a chicken, potato salad, baked beans, bread, cake, and bottled water. Meal tickets are only $10!
Pickup will be at the First United Methodist Church in Baxley from 10am-2pm .
Local deliveries are available on larger orders.
For more information, please contact the 24/7 House at 912-366-7777.