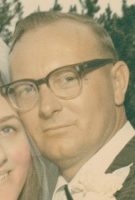 Glynn Maurice Herndon, age 84, of Odum, died Wednesday, March 13, 2019, at his residence under the care of Comfort Care Hospice.
Mr. Herndon was born October 7, 1934, in Wayne County to the late Stephen Herndon and the late Mary Aspinwall Herndon.  He was a member of Ritch Baptist Church and was a self-employed Contractor.  Mr. Herndon was a hard worker and helped many people in Appling & surrounding Counties.
In addition to his parents, Mr. Herndon was preceded in death by a son, Glenvis Dale Herndon, his brothers, Edgar Herndon, Rodney Herndon, and J. D. Herndon & a sister, Shirlene Lightsey.
Survivors include his wife, Eteen Herndon of Odum; daughters & sons in law, Lynn & Bub Moody of Baxley, Patricia & Glendale Sullivan of Bristol; son & daughter in law, Gary & Shanda Herndon of Odum; sister, Betty Griffis of Surrency; eight grandchildren, eight great-grandchildren & one great-great-grandchild due in May.  A special caregiver, Lavay Davis also survives.
Funeral services will be held Saturday, March 16, 2019, at 1:00 p.m. at the Chapel of Swain Funeral Home with Rev. R.M. Warren & Rev. Mark Griffis officiating.
Interment will follow in Big Creek Primitive Baptist Church Cemetery.
Active pallbearers will be grandsons, Mony Robert Tomberlin, Heath Herndon, Brandon Herndon, Corey Sullivan, nephew, Rusty Herndon & Rodney Martin.
Honorary pallbearers will be Bob & Geri Wiggins, Keith Wiggins, Eddie Wynn, Stevie Wynn, Dale Atkins, James "Oblong" Todd, employees of Hunter Johnson Lumber, Sheila Tillman, Comfort Care Hospice, Richie Williams, Buddy Courson, Hazel Herndon, Deurrell Lightsey, Glynn Courson, Harvey Herndon, George Griffis, JoAnn Beecher & all those in attendance.
Visitation will be Friday evening from 6:00 until 8:00 p.m. at Swain Funeral Home.
Remembrances may be made to the American Cancer Society P.O. Box 22718, Oklahoma City, OK 73123-1718 or St. Jude Children's Research Hospital 501 St. Jude PL, Memphis, TN 38105-9959.
Arrangements are under the direction of Swain Funeral Home.