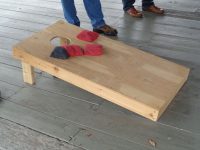 The First Annual Screven Cornhole Tournament will be Saturday, October 19th at 2:00 pm at Grace Community Park.
The entry fee is only $50 for a team of two. The tournament is double-elimination.
Our grand prize winners take home $300, with $150 going to second place.
For more information or to sign up, contact Screven City Hall at 579-2211.
All proceeds benefit Haze Godwin's family.