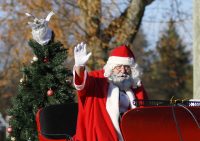 Name:
Christmas Parade/ March of the Toys
Time:
5:30 PM

 – 

6:30 PM EST
Event Description:
Join us Saturday, December 14th, 2019 for our annual Christmas Parade!
Businesses, Civic Groups, and Churches compete to win first place. Our 2019 theme is "March of the Toys". To be considered for the prizes in the above categories, entries should incorporate the theme into their float. Remember, you do not have to use the theme to enter the parade, but you DO have to use the theme to be entered into the contest.
Please note: FLOATS ARE NOT PERMITTED TO FEATURE SANTA as part of entries. Some children may not understand how Santa can be in more than one place at a time. To avoid upsetting anyone, we thank you for your understanding and cooperation in this matter.
Date/Time Information:
Saturday, December 14th, 2019 from 5:30 pm to 6:30 pm