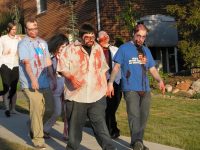 Tri-County CASA will be hosting its first ever Zombie Run this spring! Participants can choose to play one of two parts: You can be a runner, a survivor of the zombie apocalypse trying to make your way to safety through a 5k course filled with obstacles and the Undead ~or~ You can choose to be a zombie, one the infected intent on catching those last few tasty humans.
Runner tickets are $25 and Zombie Tickets are $20. Tickets will go on sale March 21st. A limited number of each will be sold, so buy yours ASAP!
Participation is limited to those aged 12 and up!
Call our office at (912) 367-0064 or message us with any questions.