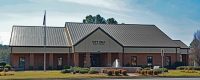 The Baxley Mayor and City Council held their Regular Meeting on Wednesday, January 9th at City Hall. Review of minutes from the Regular Meeting held on December 26th was approved with a motion made by Livingston and seconded by Fryer. The motion carried unanimously. Review of minutes from the Called Meeting held on January 3rd was also approved with a motion from Bass that was seconded by Thomas. The motion carried unanimously.
Under Old Business:
Item A. Consider first reading of an ordinance on a petition filed by J. E. Holland Properties requesting the property located at Beech Road be rezoned from the current Single-Family Residential (R12) Zone to a Multi-Family Residential (RM-10) Zone in Voting District 6. A motion was made by pro tem Hall to approve and seconded by Thomas. The motion carried 5 to 1. Those voting in favor were Fryer, Livingston, Hall, Bass, and Thomas. Voting against was Williams.
Under New Business:
Item A. Election of Mayor pro tem. Bass nominated Hall and made a motion which Livingston seconded. The motion carried 5-1 with Hall abstaining.
Item B. Appoint Municipal Court Judge. Bass nominated Pres. Johnson in the form of a motion. Pro tem Hall seconded the motion and it carried unanimously.
Item C. Adopt Depository Resolution for 2019. A motion was made to approve by pro tem Hall and seconded by Bass. The motion carried unanimously.
Item D. Adopt a resolution to establish the duties and responsibilities of the fiscal year 2018-2019 budget and establish procurement procedures for the same. A motion to approve was made by Livingston and seconded by Fryer. The motion carried unanimously.
Item E. Consider one new water/sewer discount application. A motion was made by Bass and seconded by Thomas. The motion carried unanimously.
Item F. Consider approval of the transferring of a Beer and Wine License for Consumption on Premises from Byron Stanley to David C. Stanley and Antonio Lopez who are the new owners of Hardware Pizza, located at 111 Azalea Road. The City Manager commented that the ownership of the LLC is changing. Mr. Byron Stanley's brother is actually going to take ownership of the alcohol ordinance. The City can approve to transfer the license from Mr. Byron to Mr. David so that they can open up as planned on January 15th to change ownership. By the City Manager's recommendation and what he's looked at, they've met the requirements. The City Manager recommended the Council transfer the beer and wine license to Mr. David Stanley. Livingston made a motion to approve seconded by Fryer. The motion carried 4 to 2 with Fryer, Livingston, Hall and Williams voting in favor and voting against was Thomas and Bass.
Other Business:
The Mayor and Council have an invitation from the Progressive Resource Center to attend a program they're going to have immediately following the MLK parade on January 21st. Information has been provided to all Council Members.
Reports:
The Mayor reported he attended the Prayer Service at the Appling County Complex Annex Building. The service was great. There were several pastors from the community and a room full of community support. The Mayor wished blessings for 2019.
Councilwoman Fryer reported that she's been working on a project for about three months trying to open a homeless shelter in Baxley. She's proud to say they did open December 14th and it's located at 57 Isom Lane which is off Bronston Street. They are full and have about nine people who are currently residing there right now. It's a three bedroom three bathroom home. There's a waiting list and constant calls daily for folks that are needing shelter. There's a full-time house manager that runs the day to day operations. Fryer oversees fundraising and helps with case management services to the residents. They've had two to go to work last week. One family is a family of four with both parents working and have recently found an apartment so they should be getting ready to move in the next week or so.
Pro tem Hall stated that the Grand Marshall for this year's MLK Parade on the 21st is the honorable Ms. Ann Marie Miller. He invited the Mayor and Council to attend the program Sunday evening at 6:00 pm. He also thanked the Council for all of their support and invited them to also attend the Black History Banquet in February.
The City Attorney gave an update on an easement. The owner promises they will grant easement they don't have anything in writing from the tenant Tractor Supply.
The City Manager reported that the republic contract ran out on December 31st. they do have an extension on that right now because they are in contract negotiations. They've met once and will probably meet again next week on it. Hopefully, by the next Council Meeting, he'll have some information on it.
The Mayor stated he has a lot of positive comments from citizens on the water and drainage flowing much better. He thanked David Gore and his department and the City Manager.
The City Manager stated they also have two other projects they are working on with an engineer. One is going to be Omega Cemetery Road. There may be some drainage improvements. They're trying to get some numbers on those this week and also potentially some sewer expansion in the future.
With no further business, the meeting was adjourned.