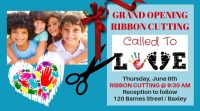 You are invited to join us on Thursday, June 6th for the Grand Opening and Ribbon Cutting Ceremony for Called to Love.
Called to Love is a non-profit organization that will provide a number of services to our community including Beloved Foster Bags, Crocheted with Love (hand-knitted crocheted items to go to foster children) and community outreach to help needy families who may be homeless or low income.
Come on out and meet the folks responsible for creating this much-needed ministry!
We look forward to seeing you there!
Ribbon Cutting will be promptly at 9:30 am. A reception with refreshments will follow.