Friday 10/07/16 11Am Track/ Advisory: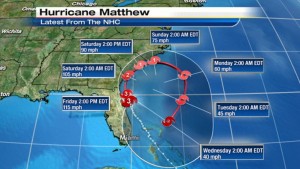 Wednesday 10/05/16 3pm UPDATE:
Thursday 10/06/16 9:30am UPDATE:
Thursday 10/06/16 10:50am UPDATE:
Thursday 10/06/16 3:40pm UPDATE:
Friday 10/07/16 9:00am UPDATE:
Hurricane Statement
The following areas are affected:
Appling
Atkinson
Bacon
Brantley
Bryan
Bulloch
Burke
Camden
Candler
Charlton
Chatham
Clinch
Coffee
Echols
Effingham
Emanuel
Evans
Glynn
Jeff Davis
Jenkins
Liberty
Long
McIntosh
Pierce
Screven
Tattnall
Toombs
Treutlen
Ware
Wayne
Hurricane Warning Issued for the Following Counties:
Chatham
Bryan
Liberty
McIntosh
Glynn
Camden
Clay

Mandatory Evacuation is in Effect for the Following Counties
All East of I95
Blythe Island
Oak Grove Island
Beaufort
Bryan
Camden
Chatham
City of Port Wentworth
Glynn
Jasper
Garden City
Liberty
Tybee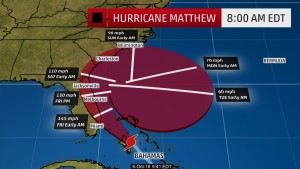 FLASH FLOOD WATCH in EFFECT for the following counties:
McIntosh
Chatham
Liberty
Jasper
Beaufort
Appling
Bacon
Brantley
Charlton
Pierce
Ware
Wayne
Tropical Storm Warning:
Columbia
Baker
Bacon
Appling
Wayne
Ware
Pierce
Brantley
Charlton
TRAFFIC NOTE: The Georgia Department of Public Safety is closing I-16 Eastbound. Around 9:30 a.m. they began closing eastbound ramps. I-16 will be converted to westbound only as soon as all the lanes of I-16 Eastbound have been cleared.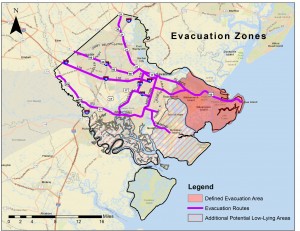 FLZ020>025-030>033-035>038-040-124-125-GAZ132>136-149>154-162>166-060015-
HURRICANE MATTHEW LOCAL STATEMENT ADVISORY NUMBER 30
NATIONAL WEATHER SERVICE JACKSONVILLE FL AL142016
1208 PM EDT WED OCT 5 2016
THIS PRODUCT COVERS NORTHEAST FLORIDA AND SOUTHEAST GEORGIA
**MAJOR HURRICANE MATTHEW HEADING FOR THE BAHAMAS AND MOVING TOWARD
THE FLORIDA EAST COAST**
NEW INFORMATION
—————
* CHANGES TO WATCHES AND WARNINGS:
– NONE
* CURRENT WATCHES AND WARNINGS:
– A HURRICANE WATCH REMAINS IN EFFECT FOR INLAND NASSAU…INLAND
DUVAL…CLAY…ST. JOHNS…PUTNAM…FLAGLER…COASTAL NASSAU
AND COASTAL DUVAL
– A TROPICAL STORM WATCH REMAINS IN EFFECT FOR
BAKER…UNION…BRADFORD…ALACHUA AND MARION
* STORM INFORMATION:
– ABOUT 710 MILES SOUTHEAST OF JACKSONVILLE FL OR ABOUT 640 MILES
SOUTHEAST OF FLAGLER BEACH FL
– 21.8N 75.2W
– STORM INTENSITY 120 MPH
– MOVEMENT NORTHWEST OR 325 DEGREES AT 12 MPH
SITUATION OVERVIEW
——————
CATEGORY 3 HURRICANE MATTHEW WILL BE MOVING NORTHWEST INTO THE
SOUTHEASTERN BAHAMAS TODAY. THE LATEST NATIONAL HURRICANE CENTER
FORECAST TRACK CONTINUES TO TAKE MATTHEW NORTHWEST THROUGH
PARTS OF THE BAHAMAS LATER TODAY WITH MOVEMENT CLOSELY PARALLELING
THE NORTHEAST FLORIDA COAST AS A MAJOR HURRICANE FROM LATE THURSDAY
NIGHT INTO FRIDAY FRIDAY NIGHT. THE THREAT FOR HURRICANE CONDITIONS
WILL INCREASE ESPECIALLY FOR COASTAL AREAS AND THE ADJACENT COASTAL
WATERS. TROPICAL STORM CONDITIONS ARE POSSIBLE FOR INLAND AREAS.
THE STORM SURGE THREAT COULD BE LIFE THREATENING WITH WATER
LEVELS OF AT LEAST 3 FEET ABOVE GROUND LEVEL ALONG THE NORTHEAST
FLORIDA IMMEDIATE COASTAL AREAS. TORRENTIAL RAINFALL ASSOCIATED WITH
RAINBANDS MAY CAUSE FLOODING ESPECIALLY IN FLOOD PRONE AREAS.
RESIDENTS ARE STRONGLY ENCOURAGED TO MONITOR THE LATEST TRACK AND
INTENSITY FORECASTS FROM THE NATIONAL HURRICANE CENTER.
POTENTIAL IMPACTS
—————–
* WIND:
PREPARE FOR LIFE-THREATENING WIND HAVING POSSIBLE DEVASTATING IMPACTS
ACROSS OVER PARTS OF EASTERN NORTHEAST FLORIDA. POTENTIAL IMPACTS IN
THIS AREA INCLUDE:
– STRUCTURAL DAMAGE TO STURDY BUILDINGS, SOME WITH COMPLETE ROOF
AND WALL FAILURES. COMPLETE DESTRUCTION OF MOBILE HOMES. DAMAGE
GREATLY ACCENTUATED BY LARGE AIRBORNE PROJECTILES. LOCATIONS
MAY BE UNINHABITABLE FOR WEEKS OR MONTHS.
– NUMEROUS LARGE TREES SNAPPED OR UPROOTED ALONG WITH FENCES AND
ROADWAY SIGNS BLOWN OVER.
– MANY ROADS IMPASSABLE FROM LARGE DEBRIS, AND MORE WITHIN URBAN
OR HEAVILY WOODED PLACES. MANY BRIDGES, CAUSEWAYS, AND ACCESS
ROUTES IMPASSABLE.
– WIDESPREAD POWER AND COMMUNICATIONS OUTAGES.
ALSO, PREPARE FOR LIFE-THREATENING WIND HAVING POSSIBLE LIMITED TO
EXTENSIVE IMPACTS ACROSS OVER THE REST OF THE AREA.
* SURGE:
PREPARE FOR LIFE-THREATENING SURGE HAVING POSSIBLE SIGNIFICANT
IMPACTS ACROSS COASTAL NORTHEAST FLORIDA. POTENTIAL IMPACTS IN
THIS AREA INCLUDE:
– AREAS OF INUNDATION WITH STORM SURGE FLOODING ACCENTUATED BY
WAVES. STORM SURGE MAY EXTEND FAR INLAND ALONG RIVERS AND
CREEKS AND YOU MAY STILL EXPERIENCE FLOODING EVEN THOUGH YOU
ARE NOT ALONG THE IMMEDIATE COAST. IF YOU ARE ASKED TO EVACUATE
IT IS BECAUSE YOU ARE IN, OR NEAR, AN AREA THAT HAS BEEN
IDENTIFIED AS BEING SUBJECT TO STORM SURGE, PLEASE HEED THE
ADVICE OF EMERGENCY MANAGEMENT OFFICIALS! DAMAGE TO SEVERAL
BUILDINGS, MAINLY NEAR THE COAST.
– SECTIONS OF NEAR-SHORE ESCAPE ROUTES AND SECONDARY ROADS BECOME
WEAKENED OR WASHED OUT, ESPECIALLY IN USUALLY VULNERABLE LOW
SPOTS.
– MAJOR BEACH EROSION WITH HEAVY SURF BREACHING DUNES AND BEACH
ACCESS AREAS. STRONG AND NUMEROUS RIP CURRENTS.
– MODERATE DAMAGE TO MARINAS, DOCKS, BOARDWALKS, AND PIERS.
SEVERAL SMALL CRAFT BROKEN AWAY FROM MOORINGS, ESPECIALLY IN
UNPROTECTED ANCHORAGES.
ALSO, PREPARE FOR LOCALLY HAZARDOUS SURGE HAVING POSSIBLE LIMITED
IMPACTS ACROSS THE ST JOHNS RIVER BASIN.
ELSEWHERE ACROSS NORTHEAST FLORIDA AND SOUTHEAST GEORGIA, LITTLE TO
NO IMPACT IS ANTICIPATED.
* FLOODING RAIN:
PREPARE FOR DANGEROUS RAINFALL FLOODING HAVING POSSIBLE SIGNIFICANT
IMPACTS ACROSS EASTERN PARTS OF NORTHEAST FLORIDA. POTENTIAL IMPACTS
INCLUDE:
– MODERATE RAINFALL FLOODING MAY PROMPT SEVERAL EVACUATIONS AND
RESCUES.
– RIVERS AND TRIBUTARIES MAY QUICKLY BECOME SWOLLEN WITH SWIFTER
CURRENTS AND OVERSPILL THEIR BANKS IN A FEW PLACES, ESPECIALLY
IN USUALLY VULNERABLE SPOTS. SMALL STREAMS, CREEKS, CANALS, AND
DITCHES OVERFLOW.
– FLOOD WATERS CAN ENTER SOME STRUCTURES OR WEAKEN FOUNDATIONS.
SEVERAL PLACES MAY EXPERIENCE EXPANDED AREAS OF RAPID
INUNDATION AT UNDERPASSES, LOW-LYING SPOTS, AND POOR DRAINAGE
AREAS. SOME STREETS AND PARKING LOTS TAKE ON MOVING WATER AS
STORM DRAINS AND RETENTION PONDS OVERFLOW. DRIVING CONDITIONS
BECOME HAZARDOUS. SOME ROAD AND BRIDGE CLOSURES.
PREPARE FOR LOCALLY HAZARDOUS RAINFALL FLOODING HAVING POSSIBLE
LIMITED IMPACTS ACROSS INLAND NORTHEAST FLORIDA AND SOUTHEAST GEORGIA.
* TORNADOES:
PREPARE FOR A TORNADO EVENT HAVING POSSIBLE LIMITED IMPACTS ACROSS COASTAL
NORTHEAST FLORIDA. POTENTIAL IMPACTS INCLUDE:
– THE OCCURRENCE OF ISOLATED TORNADOES CAN HINDER THE EXECUTION
OF EMERGENCY PLANS DURING TROPICAL EVENTS.
– A FEW PLACES MAY EXPERIENCE TORNADO DAMAGE, ALONG WITH POWER
AND COMMUNICATIONS DISRUPTIONS.
– LOCATIONS COULD REALIZE ROOFS PEELED OFF BUILDINGS, CHIMNEYS
TOPPLED, MOBILE HOMES PUSHED OFF FOUNDATIONS OR OVERTURNED,
LARGE TREE TOPS AND BRANCHES SNAPPED OFF, SHALLOW-ROOTED TREES
KNOCKED OVER, MOVING VEHICLES BLOWN OFF ROADS, AND SMALL BOATS
PULLED FROM MOORINGS.
ELSEWHERE ACROSS NORTHEAST FLORIDA AND SOUTHEAST GEORGIA, LITTLE TO
NO IMPACT IS ANTICIPATED.
PRECAUTIONARY/PREPAREDNESS ACTIONS
———————————-
* EVACUATIONS:
IF EVACUATING THE AREA, STICK TO PRESCRIBED EVACUATION ROUTES.
LOOK FOR ADDITIONAL TRAFFIC INFORMATION ON ROADWAY SMART SIGNS
AND LISTEN TO SELECT RADIO CHANNELS FOR FURTHER TRAVEL INSTRUCTIONS.
DRIVERS SHOULD NOT USE CELL PHONES WHILE OPERATING VEHICLES.
IF YOU ARE EXCEPTIONALLY VULNERABLE TO WIND OR WATER HAZARDS FROM
TROPICAL SYSTEMS, CONSIDER VOLUNTARY EVACUATION, ESPECIALLY IF
BEING OFFICIALLY RECOMMENDED. RELOCATE TO A PREDETERMINED
SHELTER OR SAFE DESTINATION.
* OTHER PREPAREDNESS INFORMATION:
NOW IS THE TIME TO CHECK YOUR EMERGENCY PLAN AND TAKE NECESSARY
ACTIONS TO SECURE YOUR HOME OR BUSINESS. DELIBERATE EFFORTS SHOULD BE
UNDERWAY TO PROTECT LIFE AND PROPERTY. ENSURE THAT YOUR EMERGENCY
SUPPLIES KIT IS STOCKED AND READY.
WHEN MAKING SAFETY AND PREPAREDNESS DECISIONS, DO NOT FOCUS ON THE
EXACT FORECAST TRACK AS THERE ARE INHERENT FORECAST UNCERTAINTIES
WHICH MUST BE TAKEN INTO ACCOUNT.
IF YOU LIVE IN A PLACE THAT IS PARTICULARLY VULNERABLE TO HIGH WIND,
SUCH AS A MOBILE HOME, AN UPPER FLOOR OF A HIGH RISE BUILDING, OR ON
A BOAT, PLAN TO MOVE TO SAFE SHELTER. TAKE ENOUGH SUPPLIES FOR YOU
AND YOUR FAMILY FOR SEVERAL DAYS.
WHEN SECURING YOUR PROPERTY, OUTSIDE PREPARATIONS SHOULD BE CONDUCTED
AS SOON AS POSSIBLE BEFORE CONDITIONS DETERIORATE. THE ONSET OF
STRONG GUSTY WINDS AND HEAVY RAIN CAN CAUSE CERTAIN PREPAREDNESS
ACTIVITIES TO BECOME UNSAFE.
CLOSELY MONITOR NOAA WEATHER RADIO OR OTHER LOCAL NEWS OUTLETS FOR
OFFICIAL STORM INFORMATION. LISTEN FOR POSSIBLE CHANGES TO THE
FORECAST.
* ADDITIONAL SOURCES OF INFORMATION:
– FOR INFORMATION ON APPROPRIATE PREPARATIONS SEE READY.GOV
– FOR INFORMATION ON CREATING AN EMERGENCY PLAN SEE GETAGAMEPLAN.ORG
– FOR ADDITIONAL DISASTER PREPAREDNESS INFORMATION SEE REDCROSS.ORG
NEXT UPDATE
———–
THE NEXT LOCAL STATEMENT WILL BE ISSUED BY THE NATIONAL WEATHER
SERVICE IN JACKSONVILLE FL AROUND 6 PM EDT, OR SOONER IF CONDITIONS
WARRANT.

WEDNESDAY 10/05/16 UPDATED TRACK: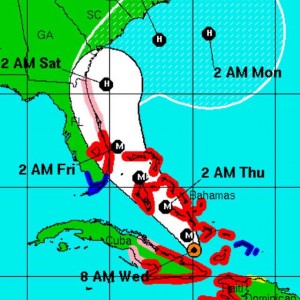 TUESDAY 10/04/2016  4PM UPDATE:  Gov. Deal has issued a state of emergency for Brantley, Bryan, Bulloch, Camden, Charlton, Chatham, Effingham, Evans, Glynn, Liberty, Long, McIntosh and Wayne counties.
After receiving on a recommendation from Georgia's Emergency Operations Command, Gov. Nathan Deal has issued a state of emergency for 13 Georgia Counties in anticipation of Hurricane Matthew.
"Hurricane Matthew is forecast to potentially impact the Georgia coast within 72 hours," said Deal today adding "While the exact effects are unknown at this time, I've issued an emergency declaration for coastal counties effective October 5 and extending for seven days. I've ordered the Georgia Emergency Management and Homeland Security Agency (GEMHSA) to work with appropriate state and local agencies to ensure all precautions are taken to protect residents and minimize risks to property and roads. The safety of Georgians is our first priority, and we urge residents in these areas to remain calm but vigilant as they prepare for potential impact."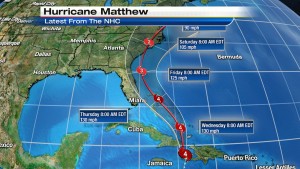 TUESDAY 10/04/16  11am UPDATE:
Matthew remains a dangerous Category 4 Hurricane as it approaches the western tip of Haiti . At 5 AM Tuesday, the eye of Matthew was located just south of the southeast Peninsula of Haiti or also about 965 miles to the south-southeast of Mayport, FL. Matthew is moving towards the north at 9 mph, and the official forecast from the National Hurricane Center indicates that Matthew will continue to impact Haiti and the Dominican Republic through today, and will then impact easter
n Cuba this afternoon and tonight. Matthew is then expected to turn northwestward on Wednesday and Thursday as it moves over the Bahamas. Matthew is expected to maintain major hurricane status for most of this week. Matthew's closest approach to Southeast Georgia and Northeast Florida Friday and Friday evening about 40 to 80 miles out over the adjacent Atlantic paralleling our coastline. Residents and businesses should make sure that your disaster supply kits are stocked and your communication plan is in place in the event that Matthew directly impacts our area later this week.weather.gov/jax