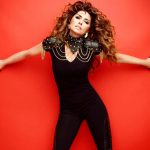 SHANIA TWAIN - 2015 PRESS ART - Photo Credit: Andrew Eccles PR: Kirsten Schubert, Kirsten.Schubert@pmkbnc.com
We've been seeing posting an article from Rolling Stones website about Shania Twain's final tour.  I hate to be the one to bust everybody's bubble but the tour was in 2015.  This is an old article that was posted on March 4th of 2015.  I actually attended the show in Jacksonville on July 15th of 2015 and I must say she puts on an amazing show!!!
To our knowledge Shania isn't going out on the road this year which is a bummer because we know how much Mike from Middays loves him some Shania! Maybe there is a tour in the making and if there is…we'll let you know when we find out!!!
Here are some live video's of Shania to get you through this Tuesday