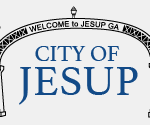 Saturday, October 26, 2019 – 10 AM to 9 PM,
Concert begins at 7 PM
The Downtown Development Authority invites you to join us for the 17th Annual Arch Fest in Downtown Jesup.
Come out and see what vendors from throughout the Southeast have to offer. Enjoy arts, crafts, children's activities, food trucks, vintage fare and much MORE!
This year's festival will include a concert in downtown Jesup beginning at 7 pm.